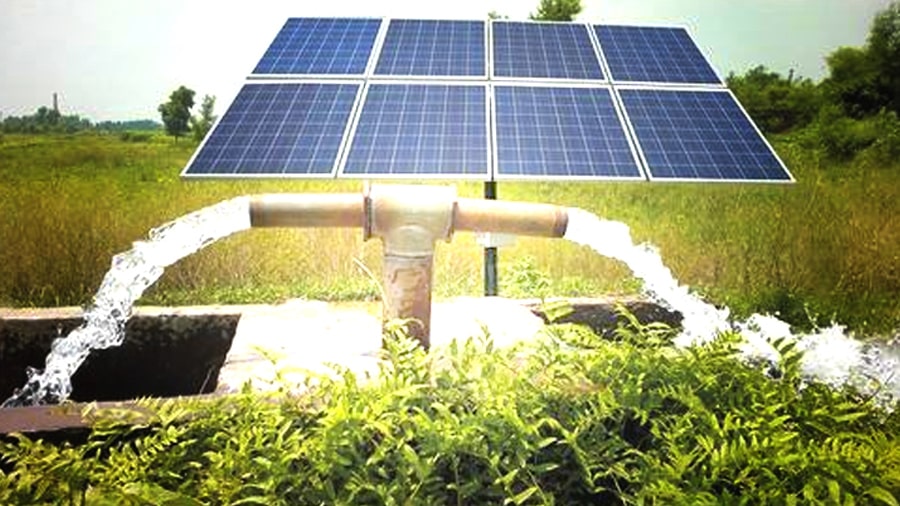 Umiya Enterprises a leading solar solution company in Dungarpur and Banswara of Rajasthan,India with a constant focus on technological innovation, a large number of high quality solar pumps for agriculture, submersible pumps, solar surface pumps, solar fountain pumps, solar garden pumps, bore well pumps.We provides complete installation and maintenance of Solar Pumps. Our Solar Pumps are an efficient, low-maintenance and economical option for household,industries, farming, water parks, swimming pools and agricultural applications.
Our solar energy pumps support a variety of programs, including field irrigation or potable water supply for communities, while drawing water from underground multiple water sources as per requirement. The solar PV water pumping system is commonly known as the solar pump scheme - the solar pump draws power from the solar cell / modules to run the scheme. Solar panel power pumps use a specially developed and energy efficient motor pump set that achieves high discharge which offsets high initial costs.
Benefits of Solar Pumps
Easy installation
Long operating life
Highly reliable
Eco friendly
Simple to operate and maintain
We strive to make our best quality solar products available at affordable prices with the latest technology,so that everyone can enjoy the display of our solar products within our reach. Our solar pumps are specially designed with the latest technology that reduces the risk of damage and protects it from many adverse conditions. Our solar panels are made of tempered glass which is durable and efficient..
The solar pump system has no storage batteries because the electricity generated is used directly here and there. The SPV array converts solar energy into electricity which is used to operate solar pumps and controllers. The pumping system can draw water from an open well / bore well or stream / lake or canal.