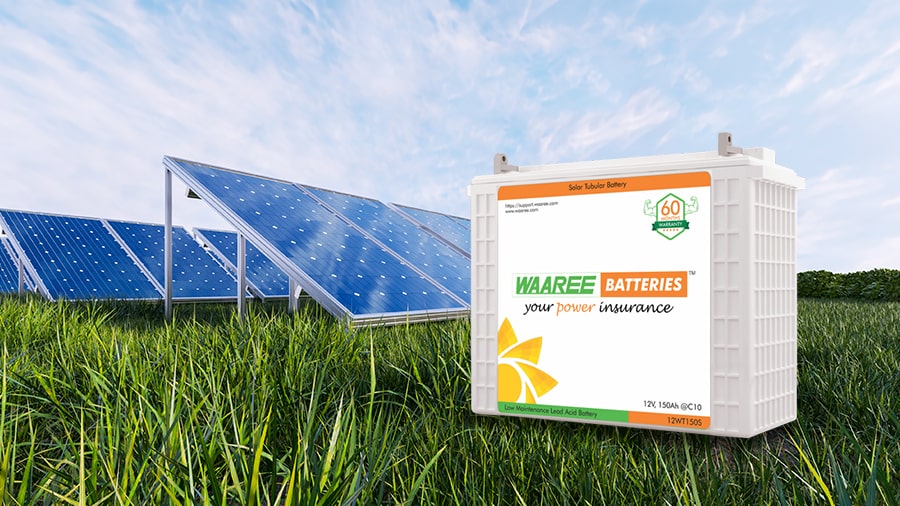 We are well known solar panel battery supplier in Dungarpur and Banswara district of Rajasthan,India. Solar batteries are extremely durable,safe and can be recharged in large numbers. Our main purpose in introducing such batteries is to provide an eco-friendly environment and to save fuel. To give the battery a longer life, we have basically made strong and thick plates to avoid corrosion that lasts for long hours.We are Franchisee Partner of WAAREE.
A solar battery is an energy storage device that can be connected to an off-grid and hybrid solar system. It is also known as Solar Panel Battery, solar power battery or solar battery storage. Solar batteries are designed to connect to a solar charger controller or solar inverter for power backup. With a solar battery, you can store the extra electricity generated by your solar panels throughout the day and use it later as you need it.
Benefits of adding a Solar Battery to your solar power system:
Solar Energy Storage Technology:- Solar batteries vary depending on how you use solar power. Installing solar batteries in your home allows you to make more use of your solar energy at home while buying less electricity from the grid. Solar energy storage technology enables you to have more control over your energy.
Electricity Saving:- By removing power from your solar battery, you can still use the cheaper electricity that your solar panels produce.
Reduce carbon footprint:- By increasing the energy generation capacity of your solar PV system, you can reduce your fossil fuel consumption and environmental carbon footprint.
Our advanced production facilities and quality management system ensure that every battery leaving the plant is sealed with quality and the highest international standards. We guarantee our customers the best quality, pro-active services and timely battery delivery. Our vast network enables us to deliver products to any corner of the world in a timely manner.
Below are Features of Solar Battery
Superior Life Cycle
Low Maintenance
Solar Battery Power & Capacity
Great Efficiency
Buy Solar Batteries at Best Price in Dungarpur and Banswara district of Rajasthan,India and Make your homes better today with clean and Green Energy!